Community Profile
kuroko_no_basket's Journal
Free Account
Created on 2012-08-14 11:42:19 (#1703896), last updated 2016-06-30 (47 weeks ago)
204 comments received
144 Journal Entries, 72 Tags, 0 Memories, 1 Icon

About
| | |
| --- | --- |
| Name: | Kuroko's Basketball: A fan community |
| | |
| | |
| Membership: | Open |
| Posting Access: | All Members |
| Community description: | A general fan community for Kuroko no Basuke |

Mini Bio
A general fan community for the
Kuroko no Basuke
anime and manga series.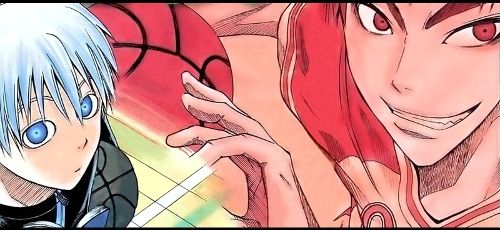 What's welcome here?
Pimping posts, discussion, updates, fanart, fanfiction (het, slash, femslash, yaoi, yuri, gen, poly, asexual, other... as long as it's got warnings it's all good :) ), icons, banners, love bars, reviews of series, fandom overviews, fandom recommendations (E.G link to art or fanfiction based on a series, that you like), advertisements; virtually anything if they are for Kuroko no Basuke.
Rules:
1. Please tag with the characters name as relevant and the type of working you are using (for now just use a tag that you feel is sensible until we formalise the tags system)
2. Please include adequate warnings when posting such as warning for any content that is not work-safe.
3. Please be careful with spoilers as this is a still being translated series!
4. All media posts should be friendslocked.
5. If you have a problem with another user, please contact

qem_chibati
or

readerofasaph
6. Please include all fic and large images behind a cut - no more than say three icons should be displayed on the front of the post, the rest should be included behind either a cut or a link (fakecut!)
• When posting fanfiction please use the following format:
Affiliates
Kuroko no Basuke

knb_kink
- A Kuroko no Basuke Kink Meme :D
basketballpoetsociety
- A weekly fic and art challenge blog based on Tumblr.
Other anime/manga basketball series!

harlembeat
- A "Harlem Beat"/"Rebound" fan community.
General Anime Manga

anime_manga
- A General Anime Manga community!

hikarunogo
- a Hikaru no Go anime and manga community.

oofuri
- a general Ookiku Furikabutte anime and manga community.

persona4all
- A general Persona 4 Fan community


Connect
akashi seijuurou
,
anime
,
aomine daiki
,
kagami taiga
,
kise ryouta
,
kiyoshi teppei
,
kuroko no basket
,
kuroko no basuke
,
kuroko tetsuya
,
kuroko's basketball
,
manga
,
midorima shintarou
, miragen,
murasakibara atsushi
,
sports
, teikou middle school
Administrators

Members (142):
100demons
,
adustyspectacle
,
ahomines
,
ajvie
,
akuram
,
akut3nshi.livejournal.com
,
alphathirdbase
,
alyssa88
,
amariys
,
amcw177
,
appledress
,
arccie
,
aris
,
assyrian
,
awrp
,
ayalesca
,
bexara
,
blackmaya
,
bookchan
,
branchandroot
,
carooo
,
causticceramist
,
ceruly
,
chasinglasers
,
chromoplasted
,
cineraria
,
cocoabuns
,
colorfulbunny
,
cosipotente
,
crack_joker
,
cram
,
darlingfox
,
degrees
,
descartes
,
dozing_dreams
,
drakys
,
draxander
,
dtn
,
emeloh
,
eris
,
escalate
,
fabfins
,
fallingheadfirst
,
flonnebonne
,
fuantei
,
fuchsian
,
glass_icarus
,
goodman
,
graychalk
,
haizaki
,
heichous
,
highboys
,
hisuiryu
,
hmirai
,
hotteokemasen
,
hydrangea
,
itachitachi
,
jetsam
,
juin
,
junoan
,
kiga
,
kiku
,
killaurey
,
kitefullofkoi
,
knb_kinkmod
,
kupocrypha
,
lacewood
,
ladycosmos
,
lanerose
,
linu
,
loremia
,
love
,
lumi
,
lysapadin
,
mayuzumi
,
meizao
,
menage
,
mientira
,
minierra
,
mmmdraco
,
morgrix
,
nakuru
,
naocchi
,
napple
,
nefisa_echizen
,
nekojita
,
nemuitaiga
,
oya_oya
,
pandabuddha
,
phish
,
puck
,
pulver15
,
pupukekex3
,
qem_chibati
,
quiet_hearts
,
rainbowpuke
,
readerofasaph
,
redskies
,
referees
,
romantica
,
saikou
,
sashirni
,
sayo
,
scherzando_aficionado
,
sekikaoru
,
serrure
,
sharktoothh
,
shepherd_blaine
,
shirato
,
shoutoshiro
,
silverblade219
,
smilebox
,
soyamilk
,
sports_mod
,
squaredspoon
,
starianprincess
,
starlit_purple
,
stillskies
,
sunshinesplashh
,
swiftling
,
teckie
,
tenimuhou
,
terajk
,
the_armada
,
tofu
,
triste
,
troisroyaumes
,
tsugaru
,
uma
,
uminohikari
,
uramanbou
,
verys
,
winterout
,
wistfuljane
,
wordsintosentences
,
xxkurenaixshixx
,
yanderebunny
,
yelena_zaltana
,
yifu
,
yohjideranged
,
yumitadashi
,
zengqunan

Subscribers (122):
100demons
,
adustyspectacle
,
ahomines
,
ajvie
,
akuram
,
akut3nshi.livejournal.com
,
aliceylain
,
amariys
,
amcw177
,
animeangel
,
appledress
,
arccie
,
awrp
,
bexara
,
blackmaya
,
bookchan
,
causticceramist
,
chasinglasers
,
cherrykiss
,
chromoplasted
,
cineraria
,
colorfulbunny
,
cosipotente
,
cram
,
darlingfox
,
degrees
,
descartes
,
dozing_dreams
,
drakys
,
draxander
,
dreamtier
,
dtn
,
fabfins
,
fallingheadfirst
,
flonnebonne
,
fuantei
,
fuchsian
,
glass_icarus
,
goodman
,
graychalk
,
haizaki
,
heichous
,
highboys
,
hisuiryu
,
hmirai
,
hotteokemasen
,
hydrangea
,
itachitachi
,
jetsam
,
juin
,
kiga
,
kiku
,
killaurey
,
kitefullofkoi
,
knb_kinkmod
,
lacewood
,
lanerose
,
linu
,
love
,
lumi
,
lysapadin
,
mayuzumi
,
menage
,
mientira
,
minierra
,
mmmdraco
,
momoshiro
,
morgrix
,
mukuro
,
nakuru
,
naocchi
,
napple
,
nefisa_echizen
,
nekojita
,
nemuitaiga
,
oya_oya
,
pandabuddha
,
phish
,
puck
,
pulver15
,
pupukekex3
,
qem_chibati
,
quiet_hearts
,
rainbowpuke
,
readerofasaph
,
risetsu_hime
,
saikou
,
sayo
,
sekikaoru
,
serrure
,
sharktoothh
,
shepherd_blaine
,
shirato
,
shoutoshiro
,
silverblade219
,
sleepy_baka
,
smilebox
,
souhoku
,
squaredspoon
,
starianprincess
,
starlit_purple
,
stillskies
,
sunshinesplashh
,
teckie
,
tenimuhou
,
terajk
,
the_armada
,
theodosia21
,
tofu
,
triste
,
troisroyaumes
,
tsugaru
,
uramanbou
,
verys
,
winterout
,
wistfuljane
,
wordsintosentences
,
yanderebunny
,
yelena_zaltana
,
yifu
,
yohjideranged
,
yumitadashi

Linking
To link to this user, copy this code:
On Dreamwidth:
Elsewhere: